Packets with Beach & Parking Passes
The packets containing Beach and Parking passes, directory and other community information will be available for pick up beginning Friday, May 26. Pickup locations are:
Ocean Side Properties:
34 Dune, Abby Imus, 301-523-2224
Evergreen and Addy Roads (Pine Side):
25 Addy, Margie Cyr, 302-541-0623
Bridge and Errett Roads (Pine Side):
11 Errett, Nancy Glasgow, 703-615-0830
Bayberry and Short Roads (Pine Side):
6 Short, Sue Rhue, 302-537-5457
Thank you to our volunteers who help with this distribution! Each asks for a call before-hand to make arrangements for the pickup time.
Beach Replenishment Update
The beach replenishment plans have changed. A decision was made yesterday to get Bethany Beach completed and then move back to South Bethany, probably at the end of June. The Weeks Marine representative advises that all equipment will be moved on the beach from South Bethany area to Bethany starting Thursday night and continuing nightly through Saturday or Sunday. They start moving equipment between 5:00-7:00 PM and continue through to the morning. Please avoid any equipment and work that is taking place during this process.
There should not be any disruption to beach time. The Army Corps of Engineers will move their equipment across the MBA beach from South Bethany to Bethany starting tonight at approximately 5:00 PM. They will move equipment during the night hours between tonight and Sunday or before if they get it all moved earlier. There will be no day time movement.
Solutions Property Management
Solutions Property Management started on April 1 to serve as MBA's new property management company. Cathy McCallister, the owner of Solutions, has decided to personally handle MBA's property management. Cathy may be reached by email at solutionspropmgt@gmail.com. Alternatively, Donna Hugues may assist you. She may be reached at solutionspropmgt2@gmail.com. Any emails directed to Lonnie will be handled by Solutions.
The office may be reached by calling 302-581-9060.
---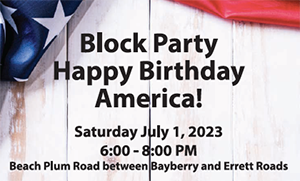 Block Party Announcement
Community Members & Their Families
Saturday July 1, 2023 | 6:00 - 8:00 PM
Beach Plum Road between Bayberry & Errett Roads
Come meet your neighbors and enjoy a night of fun, music, and games for children provided
BRING YOUR OWN BEVERAGES & CHAIRS | BRING A DESSERT OR SNACK TO SHARE
PLEASE REGISTER TO ATTEND BY JUNE 15TH
Block Party Registration
VOLUNTEERS NEEDED!!! SET UP 3-5 PM, MONITOR 6-8 PM, CLEAN UP 8-10 PM
Block Party Volunteer Sign Up
---
DRAINAGE PROJECT | GUARD SHACK PROJECT
All questions regarding the Middlesex budget or drainage project should be directed to MBA President Paul Bradley: pab@maronmarvel.com or 302-507-1741 and the Board: board@middlesexbeach.org
For homeowners only: View information on new Management Company, Drainage Project and Guard Shack Project including drawings.
(Login is required)
Guard Shack
We are pleased to let you know that MBA's iconic Guard House will be rebuilt and now known as the "Guard Shack."
The Board solicited and considered suggestions for locations, and it decided that the location at Bridge Road on the beach walkway was the best option.  A reduced footprint for the replacement structure was designed by Greg Hastings of G.A. Hastings & Associates, and the requisite permits were obtained by Paul.  The fifty-year-old Guard House was demolished last month, a separate sewer connection was installed, and the site has been marked for footers.
It was a challenge to solicit bids for the project because of its size, its accelerated timing, and the unusual demand this year for contractors.  Two proposals were received and discussed at the regular Board meeting on March 23.  At emergency Board meetings on March 29 and March 31, the Board considered the proposals, selected a contractor, and determined a payment plan. 
On March 31, 2023, the Board contracted with Champ's General Contracting, Inc. to build the new Guard Shack pursuant to the Hastings drawings.  The contract is for $85,000, which includes the work performed by Champ's for sewer work, demolition and getting the site ready for construction.  An installment payment plan was agreed, with the initial payment from the FYE-2023 budget and the balance to be paid from the FYE-2024 budget.  Voting in favor of this were Ron Thomas, Nora Alter, Kerry Hall, Margie Cyr, Bob Wood, Don Deraska, and Holly Fluty Dempsey; Jerry Kafka abstained; and Paul Bradley recused himself because of a personal connection with the selected contractor. 
Thank you everyone for your patience during this process and to those who assisted in identifying potential builders, potential sites, and with proposing alternative solutions. We look forward to the grand re-opening and ribbon cutting for MBA's revisioned Guard Shack.
Yard Waste Pickups
Republic's Every Other Wednesday Yard Waste Pickup
We are working with Republic to improve the pickup of the Wednesday yard waste. We believe some clarification of what can be placed out for this pickup may help:
This yard waste is for small branches or twigs less than 2 inch in diameter and cut to no longer than 4 feet in length

This yard waste must be bundled by twine. Bundles may not be bigger than 2 feet in diameter and no longer than 4 feet in length

Yard waste must be either bundled with twine or placed in paper yard waste bags

Yard waste placed in regular trash or plastic bags will not be picked up

Republic asks that yard waste NOT be placed in trash cans for pickup

Yard waste bags or bundles may be placed by the side of the road or in front of the trash enclosure. Yard waste bags or bundles placed inside the trash enclosure will NOT be picked up

Should a pickup be missed, notification to Solutions Property Management about the missed pickup must be made within

24 hours.
The Yard Waste pickup begins at 6:00 AM in South Bethany. They arrive in the Pine Side at approximately 8:00 AM and go to the Ocean Side after the Pine Side has been completed.
The Trash calendar located on the MBA website has been updated and may be found here. 
Schedule of Board Meetings
The MBA Board has approved the following schedule of Board meetings:
2023 Board Meeting Schedule
Below is the list of meetings of the Middlesex Beach Association through September 2023. Meetings may be held by Zoom, in-person or a hybrid meeting. Please check the website for the agenda, Zoom information, and any updates on the meetings.
NEXT BAORD MEETING: The MBA Board will meet on Saturday, June 17, 2023, by zoom. At 8:30 AM, the Board will convene in Executive Session for discussion of Violations. At 10:00 AM, the Board will open the regular Board meeting. The agenda and link to the zoom meeting will be posted closer to the meeting date.
Thursday, July 20, 2023, 6:30 PM
Saturday, August 19, 2023, 8:30 AM
Community Meeting: Saturday, September 2, 2023, 9:30 AM
Thursday, September 21, 2023, 6:30 PM
For further information regarding MBA meetings or events, please contact the Board of Directors.
MBA Organizational Chart | MBA Terms and Conditions of Website Use 
Recorder of Deeds Notification Service
The Sussex County recorder of deeds has started a recording activity notification service. The service is operated by Landmark and provides notice to you in the event a deed or other lands record document with your name is recorded. You can review the information and sign up for the service at the below link if your interested.
MBA and the County do not make any representations about the service but this is merely to let you know it is available.
https://sussexcountyde.gov/deed-fraud-alert
Sussex County Property Reassessment
This information is taken from the South Bethany website but is, of course, of interest to all of us.  Sussex County has started its property reassessments, per the court order issued in 2020. The reassessments are occurring throughout the State. The reassessing will be done by data collectors from Tyler Technologies, who  you may have already seen in the community.  The new assessed values will not take effect until July 2024, but if you notice the Tyler Technologies data collectors visiting properties, don't be alarmed as they will be attempting to make contact with the owner/occupant to take exterior measurements and photographs, as needed; they will not enter inside dwellings unless invited in. As part of the court-ordered reassessment, they began making their way through Sussex County in Oct 2021, to visit the more than 180,000 parcels on record, measuring improvements on each property and collecting data. The purpose is to get as much information about a given property so their teams can accurately compute every parcel's value. The process should last through Late 2023.
Tyler data collectors can be identified by their bright yellow Tyler work vests, and county issued photo ID badge. Property owners can expect that data collectors will be knocking on doors, interviewing occupants to ask a series of questions pertaining to the dwelling or buildings on the property, and will also request access to the property to measure the exterior of each building. If no one is home, data collectors will proceed to collect data on all accessible properties, including taking a photo of all major buildings.
For more information, including Tyler Technologies' data collector page – where photos of their employees may be used to confirm the identity of their field crew – please visit the reassessment webpage: https://empower.tylertech.com/Sussex-County-Delaware.html. For answers to frequently answered questions, please click here. More questions? Contact Tyler Technologies at SussexCountyDE@tylertech.com or 302-854-5274.
State of the Inland Bays Report, 2021
View new report from the Delaware Center for the Inland Bays: https://www.inlandbays.org/2021-state-of-the-bays-report/